BTB 49: STREET TRENCHERS MAKE INROADS ON LONG ISLAND
Published on: Tuesday 20th November 2018
The Tigercat T726G trencher is tearing it up on the roads of Long Island, New York. BTB talks to a couple of customers to get their impressions of the machines and street trencher dealer, StreetWorksUS based in Durham, Connecticut.
– Paul Iarocci
The Tigercat T726G is the third generation street trencher that started in 1999 with the T750, a 325 hp (242 kW) machine that was coupled with a cutting attachment that Street Industries designed. Brian Marksohn, principal owner of Street Industries, based in Long Island, worked with Tigercat to specify the carrier requirements and then went on to operate, lease and sell the street trencher package. The T726E followed in 2008. In 2014, Street Industries licensed the distribution rights of the Tigercat trencher product to StreetWorksUS, a company with deep experience in the utility infrastructure sector. With facilities in Durham, Connecticut, StreetWorks is well placed to lease, sell and service Tigercat street trenchers in Pennsylvania, Massachusetts, Connecticut, New York and New Jersey. In 2015, the T726G was released with a Tigercat- FPT Tier 4 final engine, along with a redesigned operator's station with improvements in ergonomics, visibility and operator comfort.
I COULD OPEN UP A TRENCH IN AN HOUR WITH THE T726. WITH A ROCK CUTTER, THE SAME JOB COULD TAKE THREE HOURS.
– Mike Martino, Asplundh Construction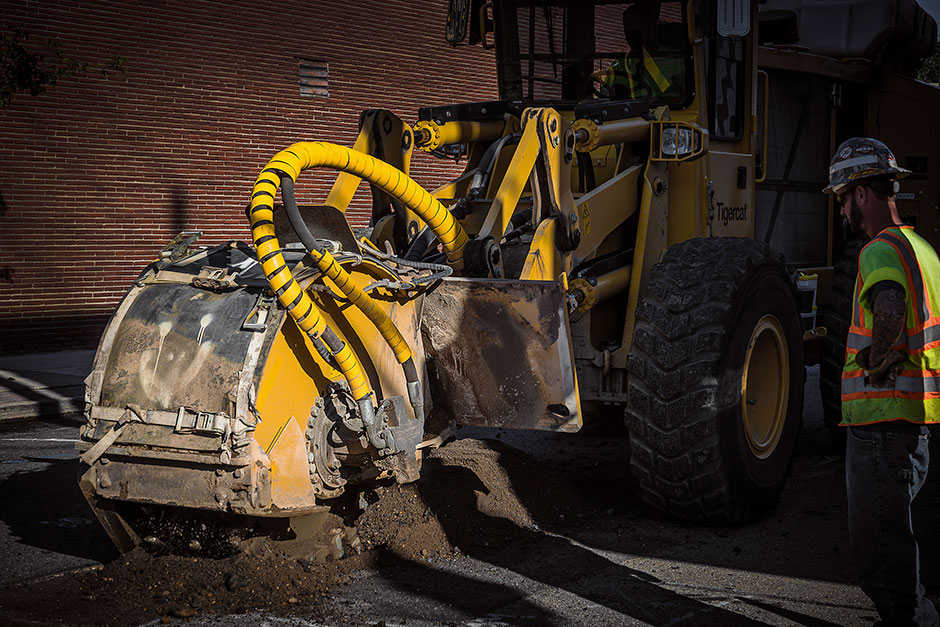 Exceeding Industry Standards
Asplundh Construction
Prior to the availability of Tigercat street trenchers, opening streets was a lot more difficult, expensive, and time consuming. "We had rock cutters," explains Mike Martino, a lead engineer at Asplundh Construction. "They are good. I am not going to say anything bad about them, but they don't compare to this machine. I could open up a trench in an hour with the T726. With a rock cutter, the same job could take three hours. Really, the Tigercat puts them to shame."
Privately-held, Asplundh currently employs over 34,000 people in the US, Canada, Australia and New Zealand. Originally focusing on vegetation management for transmission lines, Asplundh has also developed a strong electric and gas infrastructure business. The company maintains an equipment fleet of 4,400 machines to serve the project needs of investor-owned, cooperative and municipal utilities, as well as public agencies.
"On the island here, we do a lot of utility work for the National Grid," says Mike. Asplundh has been leasing four T726 series Tigercat trenchers on a long-term basis, going on two-and-a-half years. "The street cutter comes in on our main line crews," says Mike. "It opens up the roads for our crews that are putting in the main gas lines." Cutting street trenches in developments and on secondary roads is a relatively easy job, with usually just six inches (150 mm) of asphalt, but on most of the sites that Mike supervises, the normal depth is thirteen to sixteen inches (330-400 mm). And county roads and state roads are often a combination of concrete and asphalt. "We do some heavy cutting," says Mike. "A lot of times when we are running the main roads – which we do a lot – it is asphalt over top of concrete. We will be cutting eight inches and all of a sudden, we will come into an area and we've got sixteen inches." The wider the drum, the more time it takes to cut but Mike estimates that with a 30 in (760 mm) drum and 12 in (305 mm) depth, a Tigercat street trencher can achieve about ten feet (3 m) per minute. "It cuts like an animal," Mike affirms.
Bancker Construction Corp
Another traditional method for opening roads involves individual saw cuts to the pavement, double cutting and stripping up the road in chunks and then loading and disposing of the material. However, Michael Beyer, president of Bancker Construction Corp, explains that in New York, disposal costs have skyrocketed and like everywhere, there is a much greater emphasis on recycling. "We are grinding up the material and we are no longer disposing of the material in chunks." In some cases, the material can be reused as backfill. "If we can't, we can dispose of it, but we are not paying for that void volume created by those large debris chunks. When we are paying to dump 20 yards of material out of a truck, we are actually disposing 20 yards of material." Bancker is seeing two tremendous advantages: first, the speed in getting the job done and second, significantly less handling and more efficient handling of the material removed from the trench.
Bancker Construction has a history of over 100 years on Long Island. "The company was purchased by my father in 1958, so it's been in our family for 60 years," explains Michael. "The company started out primarily as a water main contractor. In the seventies, we diversified and developed our telecommunications division. In the eighties, we ramped up with gas main work, and in the nineties, electric work. Today we are an industry leader of infrastructure construction for various utilities throughout Long Island and New York City."
The Tigercat street trencher is an important tool in Bancker's operations. "As a contractor, you have many different tools in your belt to deal with many different challenges that come with each application. We utilize many different types of milling machines, pavement cutters and trench cutters," says Michael. The roads strata also varies considerably. Bancker crews are routinely dealing with asphalt roads that can range from four to sixteen inch (100-400 mm) thickness. Even more challenging are road surfaces with asphalt over a concrete composite pavement or a reinforced concrete.
"So, depending upon the type of road that we are working on, and the utility that we are putting in, we consult our tool belt to determine the best tool for the job. The Tigercat trencher has been an asset we can take anywhere. We were on a project in Brooklyn, directly adjacent to the Brooklyn Navy Yard a few years back. We encountered 20 inches of reinforced concrete and asphalt and the machine cut 400 feet (120 m) in about two to three hours." Michael confirms that it was the toughest application he has come across and the machine performed without issue. In a more typical scenario, the machines can produce around 500 feet (150 m) per hour with a 30 in (760 mm) wide drum.
IT CUTS LIKE AN ANIMAL.
– Mike Martino
Generally, the street trencher is the first machine on a worksite. "They will mark out what they want to cut," says Mike Martino. "Some days they will just open up some test holes. Some days they will crank out six to seven hundred feet of trench. Every day is different. It's all according to how much pipe they are going to be putting in. On normal days, we can do six hundred feet in around two and a half hours." After that, the street trencher gets parked and an excavator or backhoe comes in to start digging out the aggregate material in preparation for the pipe installation. The street cutter doesn't need a lot of space to work in. "We will just move traffic over one lane. That's all we need. One lane to make our job go."
Reliable machines… reliable distributor
Mike Martino explains the importance of machine reliability. "Breakdowns kill me. You've got a crew out there that is costing you $7,000 per day. My boss doesn't want to hear that we didn't put any pipe into the ground. So, [avoiding] downtime is very important." Mike has not experienced major downtime with the Tigercat machines. "Sometimes it's just minor stuff. It might be just a loose filter from the vibration. StreetWorks service is excellent. I very rarely get a voicemail when I call. And if there is an issue, one of them is on the ferry coming over within a half an hour. If it's a major problem, they are not afraid to put a machine on a trailer and bring it over that night and have me up and running the next day – which is very rare in this industry. Their service to me is absolutely excellent."
Michael Beyer concurs. "From the day I met Brian, almost eighteen years ago to today, Street Industries has been there for us." Michael relates once having an issue while changing out a drum. "I think within two hours of the phone call, Brian himself was out here with my mechanic, working with a tool in hand. A couple of hours later they had the drum changed. Brian has continued to amaze me. He is on the jobs and he is intimately engaged with his equipment and his clients. I have nothing but the finest things to say about him and his company."
Michael recalls the day eighteen years ago when he first saw a Tigercat T750 street trencher. "We were invited to see it in operation on another contractor's project. We were told to arrive at the site around 8:30 and that the machine would be set up and ready to go. We pulled up at the site, and we saw the machine on the trailer. We looked at our watches and it was about 8:40, and I said, 'Well I guess they aren't ready yet.' We got out of the car to walk over and as we were passing the machine we saw the entirety of the trench had already been cut. I asked, 'What happened?' Turns out they cut the whole job – twelve inches of asphalt, 350 feet of trench – in about 15 minutes. We were sold, and we bought the machine, to some degree sight unseen."
The original T750 street trencher evolved from another discontinued Tigercat machine, the M760 mulcher, a high horsepower carrier designed for demanding high duty cycle off-road land clearing and right-of-way applications. Often working in time-sensitive operations such as oil exploration and pipeline developments intolerant to downtime, Tigercat mulchers operate in a very tough environment and often pile on hours quickly. In order to maintain high production and high uptime, it's all about maximum horsepower to the attachment, excellent heat rejection capabilities and ample steel in the right places.
THEY HAVE STOOD THE TEST OF TIME AND THEY ARE PROBABLY ONE OF THE MOST RELIABLE MACHINES THAT WE OWN AND, PER HOUR, THE LOWEST COST OF OWNERSHIP OF ANY MACHINE THAT WE HAVE OUT THERE RIGHT NOW.
– Michael Beyer
Bancker purchased that first T750 eighteen years ago. Today it is still running strong and is entirely original aside from some wear plates that were installed on the drum. "It's pretty impressive. The machine was literally just in our shop getting a normal service and we were discussing the fact that everything is original on the machine." Bancker has purchased a total of four Tigercat street trenchers, most recently, a new T726G that went into service in June 2018.
"The other day we took delivery of our newest machine and it was unloaded and parked next to the eighteen-year-old machine. The new one has state-of-the-art technology and all of the bells and whistles as compared to the old one. But they're still made with all steel. They have stood the test of time and they are probably one of the most reliable machines that we own and, per hour, the lowest cost of ownership of any machine that we have out there right now."
Michael explains that in general, as technologies have improved, the issues that the fleet maintenance people used to experience with engines and hydraulics have mostly gone away. "With other machines, we do have reoccurring issues with pins and bushings and things like that. With the Tigercat machines, I haven't replaced a hose, let alone pins and bushings. Everything is original. We run them twelve months a year and they are out there every day working. We haven't had the problems that we have had with other pieces of equipment doing the same type of application."
"One of my veteran operators, who has 30 years with us, was the first to run our newest machine and he called me to tell me the cab is even nicer than it was on past machines. The cab environment and operator comfort are second to none. The instrumentation is fantastic and he was very impressed by the cameras. He is fully able to see his surroundings." Michael also notes that the in-cab noise has been greatly reduced with the new cab design and that the cab interior is far more ergonomically correct.
"We only buy the best equipment, we put the money up front for the best equipment. I expect very fine things when you are putting that capital expense out front, so I have no problem with making a complaint. As far as we are concerned, there is no equal to this machine," says Michael.
Related Articles
Published on: Sunday 1st November 2015
Tigercat and StreetWorks exhibit at massive construction and utility industry show in Louisville, Kentucky.
---
Published on: Friday 31st March 2017
Tigercat exhibited its off road industrial products and street cutter on the world stage of CONEXPO – CON/AGG 2017 in March.
---
Published on: Saturday 1st March 2014
Tigercat was back at CONEXPO in March with the new 470 mulcher and the T726E street trencher.
---
Related Videos