Related Content
01 December 2014
Methodical examination and action can help prevent breakdowns, thwart fire and extend the life of your machine. Learn what your daily equipment pre-start inspection should include.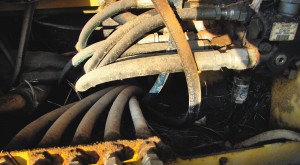 07 January 2015
Compared to other mobile industrial machines, equipment used in forestry has an above average risk of being damaged or destroyed by fire. Take the right steps to minimize the risk of fire. Learn more about best practices.
04 April 2022
Although logging machines are at home in the mud and dust, keeping your Tigercat equipment clean is one of the easiest and most economical ways to preserve your investment.