Related Content
07 May 2022
Jason and Misty West talk about their land clearing business and how the new Tigercat 760B mulcher fits into the equipment mix.
21 November 2016
The M726E mulcher preparing a block for replanting in Mexico. Mulching has several advantages over burning. It is environmentally friendly, returns nutrients to the soil, and the mulched material helps to control vegetation growth.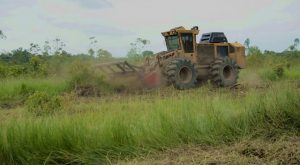 22 June 2022
Watch a Tigercat 760B mulcher working in a high production, single-pass silviculture application. The machine is preparing a recently harvested cut block for replanting. This includes the reduction of all stumps, tops, and branches to a level that allows the replanting teams to come in and immediately pit and plant. An efficient way to prepare harvested blocks for replanting.