Resources
07 January 2015
Compared to other mobile industrial machines, equipment used in forestry has an above average risk of being damaged or destroyed by fire. Take the right steps to minimize the risk of fire. Learn more about best practices.
21 November 2016
Teak round log export specialist, Proteak, ventures into eucalyptus in Mexico in a big and bold way.
21 November 2016
The M726E mulcher preparing a block for replanting in Mexico. Mulching has several advantages over burning. It is environmentally friendly, returns nutrients to the soil, and the mulched material helps to control vegetation growth.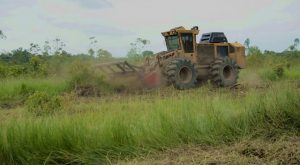 13 July 2011
A Tigercat M726E mulcher clearing mesquite for an oilfield pad site in south Texas.
13 July 2011
Watch a Tigercat M726E mulcher in as pipeline right-of-way application in Louisiana.
17 September 2019
Download the brochure. Discover more about Tigercat's end-to-end mulching solutions.